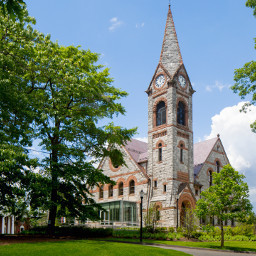 Colleagues and Friends of Chancellor John V. Lombardi and Mrs. Cathryn L. Lombardi
Colleagues and friends of UMass Amherst Chancellor John V. Lombardi and his wife, Mrs. Cathryn L. Lombardi contributed to a scholarship in their honor.
Lombardi was born into a family of educators in Los Angeles, California in 1942. His father was the president of Los Angeles City College, a California community college, and superintendent of the Los Angeles Community College District. His mother worked as a college librarian. He earned his Bachelor of Arts degree from Pomona College in Claremont, California in 1963, and his Master of Arts and doctor of philosophy degrees from Columbia University in New York City in 1964 and 1968, respectively. He also attended the Universidad Nacional Autónoma de México in Mexico City, where he learned Spanish while living with a Mexican family, as an undergraduate, and the University of California, Los Angeles for graduate school. While he was a graduate student, Lombardi spent several years living and researching in Venezuela as a Fulbright Scholar.
Lombardi married the former Cathryn L. Lee in 1964, whom he met while they were attending Pomona College.
Lombardi is a specialist in Latin American history, and has a particular interest in Venezuela. He has written numerous academic journal articles and several books on Venezuela and Latin American history and affairs, as well as on many university administration-related subjects. He is a nationally recognized authority on American higher education, and has been the co-editor of the annual editions of The Top American Research Universities from 2000 to the present. In addition to Latin American history classes, he has taught courses on intercollegiate sports, international business and university management. Lombardi served as Chancellor of UMass Amherst from 2002 to 2007.
Salutation
Please address your thank you letter to the Donors to the Lombardi Scholarship.