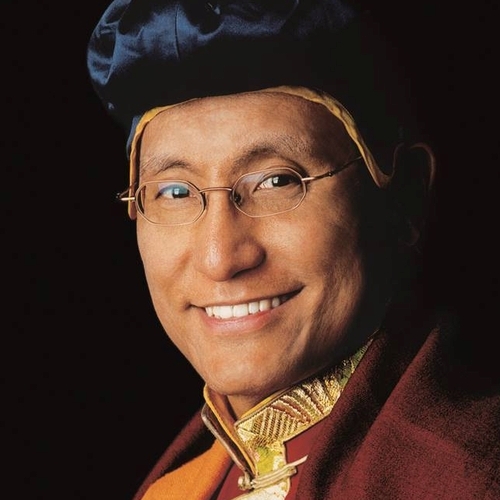 Celso and Cam Tu Pham Avelar in honor of His Holiness Gyalwang Drukpa
Celso Avelar graduated with his master's degree from UMass Amherst in 1998 and then worked as IT director for Commonwealth Honors College. He has since worked for eight years at Microsoft as a Digital Advisor and in 2021 joined Google as Customer Success & Transformation Leader. Celso and his wife, Cam Tu Pham Avelar, along with the Avelar family, have been continuous donors to UMass Amherst with the Celso Avelar Honors Research Grant, the endowed Rute Avelar Scholarship, and the endowed The Gyalwang Drukpa Scholarship.
The Gyalwang Drukpa Scholarship honors His Holiness 12th Gyalwang Drukpa for all of his continuous efforts, love and compassion in shaping the world in so many areas: environment, human rights, women's leadership, gender equality, social justice, healthcare and animal welfare. The Gyalwang Drukpa is the spiritual head of the Drukpa Lineage, originating from the scholar-saint Naropa who founded Indian Buddhism over a thousand years ago. He has been an active environmentalist, educator and activist and has received many global awards for his extraordinary humanitarian work:
• United Nations Millennium Development Goals (MDG) Honor, September 2010
• Green Hero Award, presented by the President of India, December 2010
• Guinness World Record twice for most trees planted simultaneously, October 2012
• Led Pad Yatra, documented in "Pad Yatra: A Green Odyssey" which won Best Environmental Film in Sedona International Film Festival and Big Bear Film Festival, 2012
• The Guardian of the Himalayas by Waterkeeper Alliance, September 2013
• Asia Game Changer Awards, awarded to Kung-fu nuns, led by the Gyalwang Drukpa, 2019
More information can be found in official websites and social media accounts of the Gyalwang Drukpa, Gyalwa Dokhampa, Kung-fu nuns, and Live to Love foundation.
Salutation
Please address your thank you letter to Mr. and Mrs. Avelar. For recipients of the The Gyalwang Drukpa Scholarship, please also include His Holiness in your greeting.